ENGLISH VERSION
"The Big Lebowski Art Collection" is a collection book of 68 illustrations inspired by the movie "The Great Lebowski".
The project involved 68 different artists from 21 different states around the world.
Enjoy the Dude! BUY IT!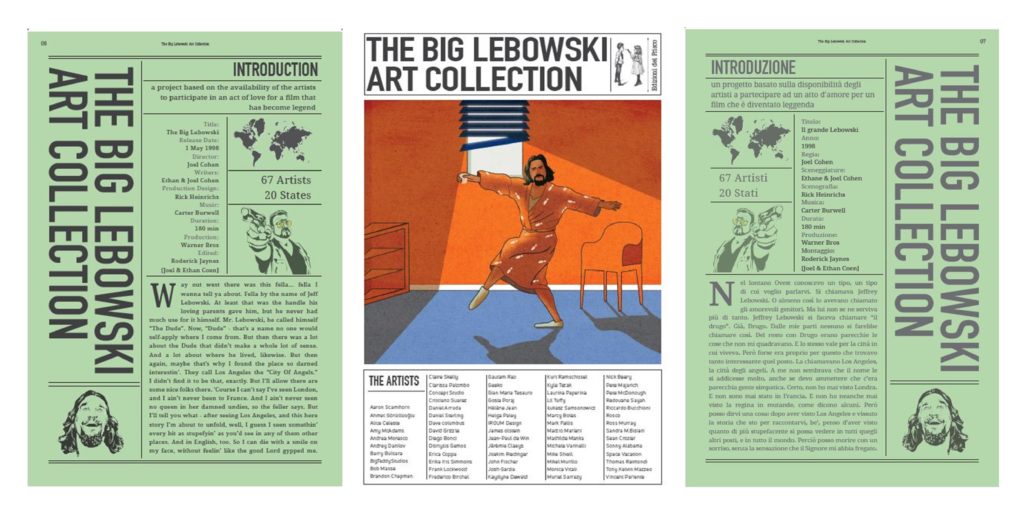 TECHNICAL FEATURES
Art Director, Layout and Design: Francesco Ciaponi
Cover image: Nadia Sagramella
Text: English and Italian
Format: 16.5 x 24
No. 152 Pages
Cover paper: DNS Premium 350 gr.
Body paper: Premium DNS 110 gr.
Binding: Paperback
Price: 20 € + shipping costs
ITALIAN VERSION
"The Big Lebowski Art Collection" è un libro che raccoglie 68 illustrazioni ispirate al film "Il grande Lebowski".
Al progetto hanno partecipato n.68 artisti provenienti da 21 stati diversi in tutto il mondo.
Enjoy the Dude! PRENDI LA TUA COPIA!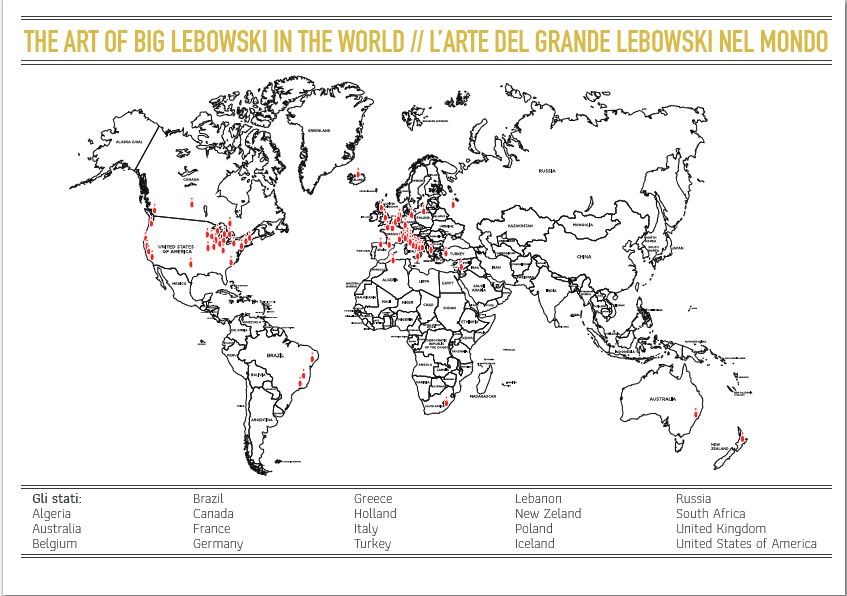 CARATTERISTICHE TECNICHE
Art Director, Impaginazione e Design: Francesco Ciaponi
Immagine di copertina: Nadia Sagramella
Testo: inglese e italiano
Formato: 16,5 x 24
N. 152 Pagine
Carta cover: DNS Premium 350 gr.
Carta corpo: DNS Premium 110 gr.
Rilegatura: Brossura a filo
Prezzo: 20€ + spese di spedizione
Per ordini superiori ad una copia, scrivete a: info@edizionidelfrisco.com
TALK ABOUT US // PARLANO DI NOI

Ratatà Festival Badia a Ruoti (Arezzo)
Valdarno Post / BEU BEU Art Festival
Firenze Urban LifeStyle / articolo
Finzioni Magazine, Linkiesta, Minimum Fax / articolo
Sterlizie Magazine / articolo
Pure Gold Magazine / articolo
Choisi Bookshop (Lugano) / shop
DOTZ – art at your fingertips / articolo
La Tigre di carta / intervista
JAMES Magazine / articolo
Design Diffusion / articolo
Cheeky Magazine / articolo
Il Cuoio in diretta / articolo
Artwort / intervista
Womoms / articolo
Design Playground / articolo
Art and Cult Blog / intervista
Progetto Bardamù / video intervista
Italianism / articolo
Orme Radio / Podcast

---
STAY UPDATE ABOUT THIS PROJECT!
The interviews with the artists who collaborated in the creation of the book "The Big Lebowski Art Collection" continues. Today we present Thomas Raimondi from Italy. If you want to read previous interviews or buy the book, just click HERE. Thomas Raimondi was born in Legnano (MI) on May 17, 1981. Graduated at the Politecnico di Milano […]
---
Follow #tblack on Instagram!
THE SELFIE METHOD